Overview of the Chapter
The Disability Chapter was set up with the aims of achieving role clarity and identity for disability social workers, developing practice guidelines for disability social work practice and enhancing social work collaboration and leadership in the disability sector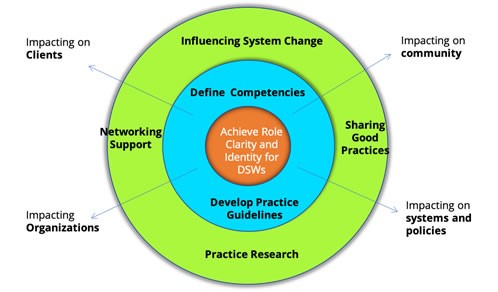 Members of Chapter: 2019-2021
| Appointment in SASW | Name | Organisation |
| --- | --- | --- |
| Chairperson | Tan Sze Wee | Rainbow Centre, Singapore |
| Vice-Chairperson | Sandra Tan | AWWA FSC |
| Secretary | Ong Lay Hoon | MINDS |
| Treasurer | Angela Chung | SPD |
| Member | Teo Ginnyueh | Institute of Mental Health |
| Member | Iris Lin | Fei Yue Community Services |
Who are eligible for our Programme/Activities?
The Disability Chapter membership is open to members of SASW who are interested in disability issues.
Non-SASW members may join as Friends of DC and participate in selected network sessions
Areas of interest
Practice guidelines, research and collaborative projects
The Chapter organised an inaugural symposium in 2018, which was attended by over 120 social work professionals and partners.
Criteria to Join Us:
Registered Social Worker, and
Currently practising social workers in the disability setting
SASW member
If you are keen to become a member or friend of the chapter, please email to SWchapters@sasw.org.sg and address to "Disability Social Work Chapter Chair"