Overview of the Chapter
Over the years, Medical Social Workers (MSW) have grown to a large and distinct group. In 2001, MSWs decided to push forward for professionalisation of health social work to set up the Chapter under the Singapore Association of Social Work (SASW). The Chapter has since represented and promoted the profile of MSWs in Singapore.
Objectives of the Chapter:
Raising awareness of the profession
Ensuring MSW's competency
Improving practice by conducting trainings and education initiatives
Providing a platform to strengthen inter-sectors relationship
Committee of Chapter: 2019-2021
| Appointment in SASW | Name | Organisation |
| --- | --- | --- |
| Chairperson | Cerene Wong | Changi General Hospital |
| Member | Candice Ow | Singapore National Eye Centre |
| Member | Clarice Ng | Home Nursing Foundation |
| Member | Eunice Lee | National Cancer Centre Singapore |
| Member | Geraldine Lim | Singapore General Hospital |
| Member | Lee Ming Li | Tan Tock Seng Hospital |
| Member | Mavis Teo | KK Women's & Children's Hospital |
| Member | Eugene Lee | National Heart Centre |
Who are eligible for our Programme/Activities?
SASW Members/ Accredited social workers currently working in a health-related establishment;
Any social workers or social service practitioners who are interested in healthcare related issues can participate in selected Chapter activities
Our Key Areas of Focus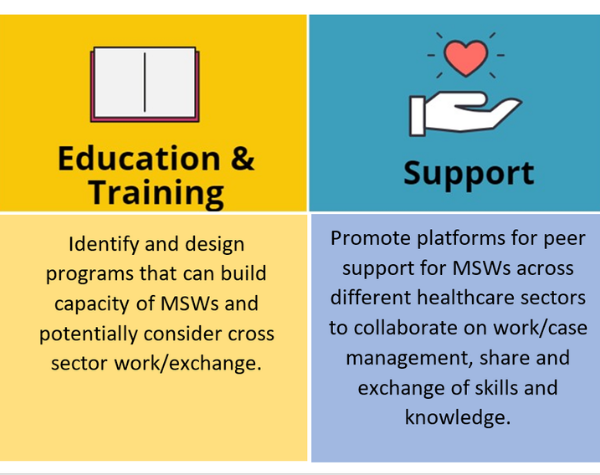 Past Achievements
Professional Development
Assisted in coordinating symposiums and seminars, including the inaugural "Inspirational Series for Health Social Workers"
Developed curriculum of foundation training for new MSWs and Social Work Assistants
Collaborated and coordinated with Melbourne MSW for social visits, exchange programmes to inspire and broaden social workers' knowledge
Organised workshops for example, overseas speaker in data mining in health and mental health services
Professional Networking
Organised the Social and Health Research Network where social practitioners from the community and healthcare settings share research presentations at this common platform
Organised Inter-Hospitals Amazing races, and other networking events to foster strong relationship among workers from the different hospitals
Fostered stronger ties with Australian health social workers, and Malaysian social workers
Collaborated with the SASW Practice Research Special Interest Group to organise Social Work Research Network Meeting, where social workers from community and healthcare showcase their research studies/projects.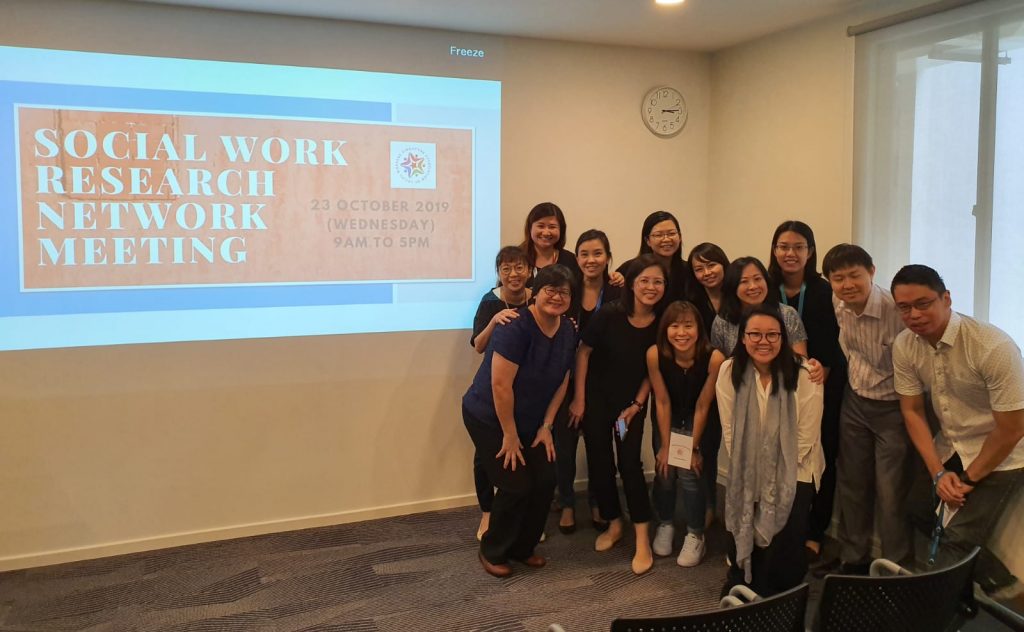 Professional Image
Promoting the work of MSWs in schools and career fairs organised by various Ministries such as MOH and MINDEF
Criteria to Join Us:
Registered Social Worker,

and

SASW member,

and

Currently practising workers in the healthcare setting irrespective of sectors (e.g. Restructured Hospitals, ILTC); or
Shares a keen interest in healthcare sector
If you are keen to become a member or friend of the chapter, please email to SWchapters@sasw.org.sg and address to "Medical Social Work Chapter Chair"