Organised by the Singapore Association of Social Workers and supported by the Ministry of Social and Family Development (MSF) and ExxonMobil Asia Pacific Pte Ltd, the annual Outstanding Social Worker Award (OSWA) is presented by the President of the Republic of Singapore and recognises outstanding contributions by social workers.
OUTSTANDING SOCIAL WORKER AWARD (OSWA)
The OSWA is the highest award to social workers conferred by the President of the Republic of Singapore. It aims to recognise the outstanding contributions made by dedicated social workers in Singapore. The award acknowledges their passion and professional contributions to the improvement of the social service and healthcare sectors.
PROMISING SOCIAL WORKER AWARD (PSWA)
The PSWA (Promising Social Worker Award) was introduced in 2008. It accords recognition to social workers who are newer in the field but have nonetheless made a difference in the lives of their clients as well as the community.
Nominations are now open!

Submit your nominations at https://bit.ly/3gjhdl2
For more information, please visit https://sgsasw.wixsite.com/oswa2021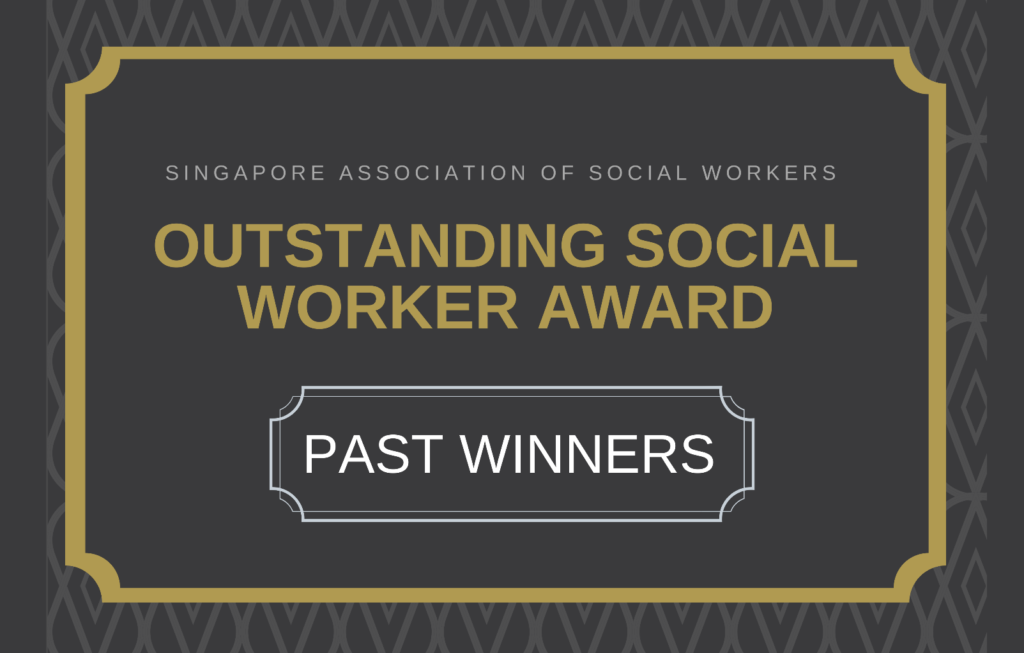 Year
Outstanding Social Worker Award Winners
Promising Social Worker Award Winners
2020
Ms Bridget Monica Das
Ms Lim Boon Chee
Ms Lyon Koh Lin Lu
Ms Lin Siping
2019
Mr Lee Seng Meng
Ms Tan Ching Yee

Mr Lim Shen Yong
2018
Ms Chew Mei Mei Melissa
Mr Benjamin Yeo
Ms Tay Yu Pin
Ms Zoe Tee

2017
Dr Vincent Ng Chee Keong
Ms Zahara Mahmood

Ms Kristine Lam Hui Ching
2016
Ms Nancy Ng
Ms Chee Wai Yee

Ms Lee Kaiyi
Ms Lin Jingyi

2015
Ms Lee Yean Wun
Mr Isaac Teo
Ms Lee Hwee Yoke Kitty
Ms Koh Shi En Grace

2014
Ms Cheung Siew Li
Ms Julia Lee

Ms Wong Li Jin, Michelle
Ms Lee Sin Yan

2013
Ms Yogeswari d/o Munisamy
Ms Ng Shi Quan, Lynnette
Ms Wu Ka Ma, Carmen

2012
Ms Esther Lim Li Ping
Ms Wu Mei Ling

Ms Jean Koh Yan Fang
Mr Ivan Woo Mun Hong

2011
Ms Ng Tzer Wee
Mr Mohamed Fareez Mohamed Fahmy
2010
Mrs Sylvia Mun
Ms Han Yah Yee

Mr Chua Chye Huat Alvin
2009
Mr Mohd Ali Bin Mahmood
Mrs Seah Kheng Yeow

Mr Chua Wei Bin
2008
Ms Long Chey May
Mr Chan Whee Peng

Mr Lim Chong Chee, Bryan
2007
Mrs Yee-Chow Choy Yin
Ms Crystal Lim Ah Yan

–
2004
Mrs Wong Cher Meng
Ms Ho Lai Peng
Mr Shawn Koh Chu Bian (Merit Award)
Ms Joyce Tan Swee Yee (Merit Award)

–
2003
Ms Ngo Lee Yian
Mrs Lee Lay Beng

–
2002
Ms Maureen Fung Swee Kim
Ms Koh Hwee Cheng, Esther

–
2001
Mr Samuel Ng Beng Teck
Ms Pang Kee Tai

–
2000
Ms Goh Soon Noi
Mr Arthur Ling (Merit Award)
Mrs Deby Sarojiuy Krishnan (Merit Award)

–
1999
Ms Ang Bee Lian
Dr Myrna Blake

–
1998
Ms Sudha Nair
Mrs Winnie Phoon

–